Steam Marines v0.7.6a, 31 January 2019
---
Hello all,
Today Steam Marines 2 finally gets its run score implementation, similar to how Steam Marines 1 operated. Actions can have either a positive or negative score modifier attached to it (e.g. killing an enemy grants score, whereas having a marine die reduces score).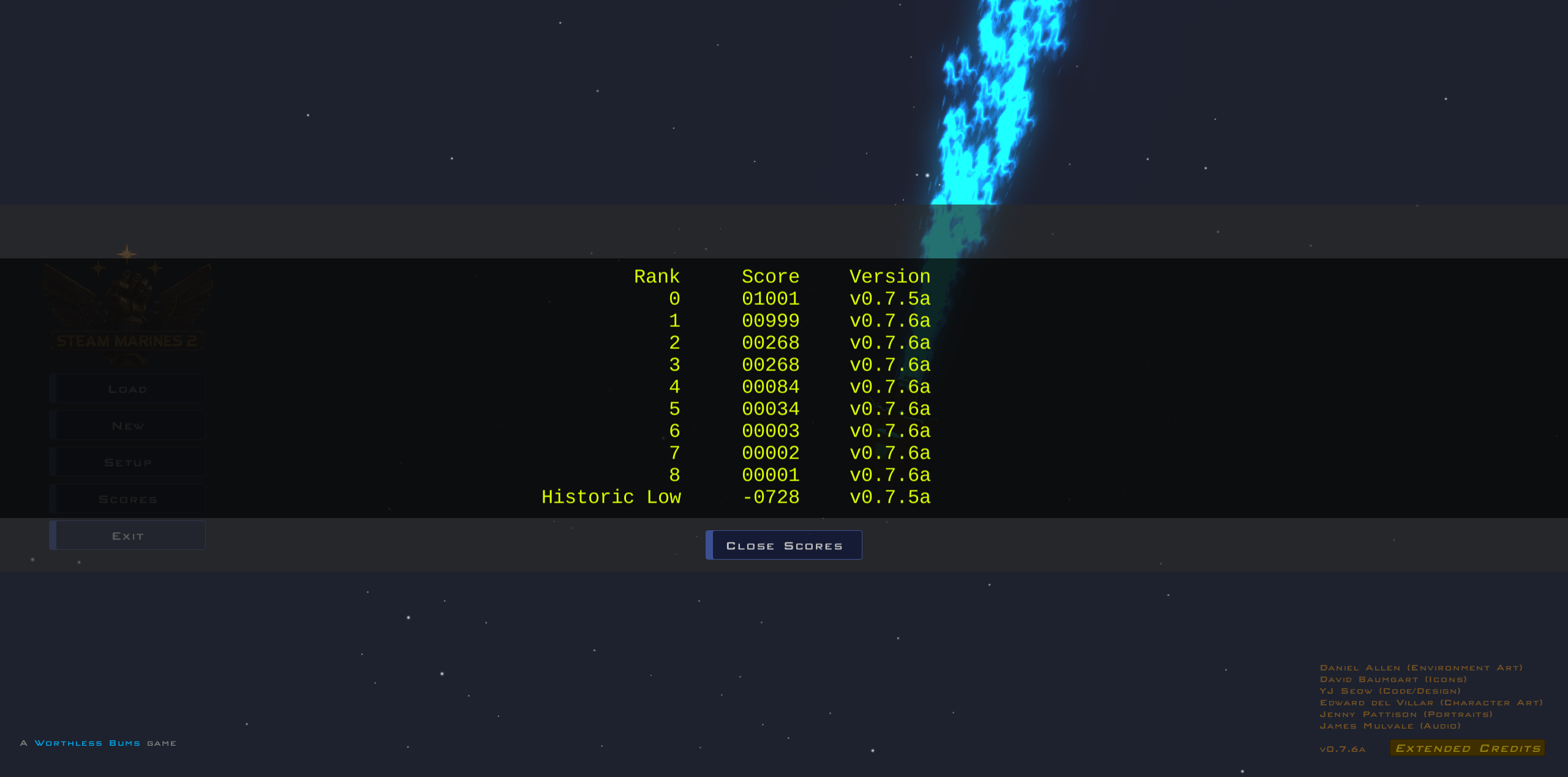 The scores table can be accessed from the main menu and retains your top 9 highest scores, as well as your historic lowest score. You can in fact get negative scores on runs if you happen to do terribly.
As you can see it also tracks the game version that was played when the score was achieved. Only the scores displayed are saved to file.
v0.7.6a Changelog
Player run scores now implemented, accessible via the main menu.
Scores are now displayed between each level, and when the player loses and wins the game.
Unit Info Panels will now obscure game world objects less, although there is no "smart" positioning.
Unit Info Panels will now temporarily toggle off when entering targeting mode.
Unit Info Panels will now retain the last mode the player manually set it to when leaving targeting mode.
Improved performance of tile nodes, unit info panels, and tooltips for low end machines and Mac.
Changed the "AlphaSquad" developer console command to also grant action and attack to all marines.
Updated game win message with state of the game and score information.
Bugfix: Ripsaw tooltips will now properly show when the cursor is moused over them on the tactical field.
Bugfix: Player/Enemy end turn messages not always appearing in some cases.
Bugfix: Action panel buttons should now always re-appear after the end of an enemy turn.
Bugfix: Some event log messages were appearing out of order from the actual events.
Bugfix: Engineer Tier 2 Helmet not always displaying correctly in the squad manager (stats were applied correctly).
Files
steam-marines-2-win.zip
316 MB
Version 0.7.6a
Jan 31, 2019
steam-marines-2-lin.zip
335 MB
Version 0.7.6a
Jan 31, 2019
steam-marines-2-osx.zip
331 MB
Version 0.7.6a
Jan 31, 2019